ПОХОЖИЕ ВИДЕОРОЛИКИ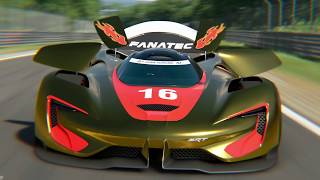 6 мес. назад
READ VIDEO DESCRIPTION BEFORE POSTING COMMENTS: 1. About the SRT Tomahawk X VGT and realistic physics 2. Clean lap definition 3. For all those shouting FAKE, CHEATER etc. 4. Settings 5. My wheel and wheel-settings ---------------------------------------------------------------------------------------------------------------- 1. This car "SRT Tomahawk X VGT" is a fictional car and part of the Vision Gran Turismo Programm which gave car designers the chance to include futuristic prototypes into the game. For more infos about the "SRT Tomahawk X VGT" go to: https://www.gran-turismo.com/us/vgt/srt/ It´s far away from any real car ever build and i doubt it´s technical possible to build anything similar during the next decades. There are no tires and materials which could survive the forces a car like this would produce. Even this would be technical possible no human body could handle the G´s without passing out. Driving the Tomahawk X VGT is not about doing something realistic. It´s a challenge for hand-eye-cordination and reflexes. The driving assist make it possible to put the power on track and are part of the game. Even with ASM an CA turned on it´s not that easy to stay on track and react fast enough. 2. This is the fastest clean lap time of GT Sport on Youtube so far. I define a clean lap by the rules of GTPlanet and GTRP for time trails: There must be at least 2 tires on or over the track (in case of a jump with all 4 tires in the air) all the time (curbs = track). Shortcutting ( more than 2 two tires off-track), wallriding etc. are not allowed. Join the competition on GTPlant: https://www.gtplanet.net/forum/threads/nordschleife-world-record-challenge.374511/ 3. For those who believe this video is fake, cheated, fast-forewarded etc. i can say it´s not. You can watch the lap on the replay section of my GT Sport page in game: Zocker16_GTRP There have been times under 3.30 with the Tomahawk X VGT and the Red Bull X2010 in previous Gran Turismo games (GT5 and GT6) from many drivers. So this is definitely possible an needs no hacks, computer editing etc. 4. Settings: Transmission - Manual Traction Control - Off ASM - On Countersteering Assistance - Strong ABS - Default 5. Wheel-settings Im using the Fanatec CSL-Elite PS4 Wheel, follow my Fanatec affiliate Link and get your own: https://www.fanatec.com/eu-en/bundle/product/csl-elite-ps4-starter-kit-for-pc-and-ps4.html?utm_medium=FAP+Banner&utm_source=5b17fe2052e76&utm_campaign=General+Links&a_aid=5b17fe2052e76 Wheel Settings: SEN: 90 FF: 50 SHO: 0 ABS: Off LIN: Off DER: Off DRI: 0 FOR: 100 SPR: 100 DPR: 100 FEI: 0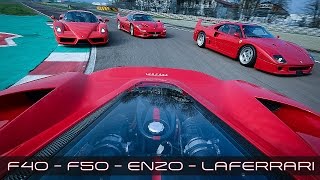 GommeBlog.it: Car & Performance
3 г. назад
Vederle riunite tutte insieme sul circuito di Fiorano è stata un'emozione indimenticabile. Resa ancora più speciale dal fatto che per l'occasione a guidarle, una dopo l'altra, è stato proprio chi le ha sviluppate come collaudatore su quella stessa pista. Parliamo di F40, F50, Enzo e LaFerrari, le vetture che hanno segnato la strada dell'evoluzione tecnologica della Ferrari degli ultimi 30 anni, e dello storico test driver Dario Benuzzi, a Maranello dal 1969, che salendo in sequenza su queste auto ha rivissuto le emozioni di una vita di lavoro con il Cavallino Rampante in una sorta di time lapse tecnologico davvero unico. Alla fine, però, è stato impossibile resistere alla tentazione di far scendere contemporaneamente in pista le quattro serie limitate speciali della Ferrari. Le loro linee e il sound dei loro propulsori a 8 e 12 cilindri hanno generato uno spettacolo e una sinfonia memorabili. Una celebrazione perfetta della passione e dell'eccellenza Ferrari. Seeing them all together at Fiorano was an unforgettable and very moving experience made all the more special by the fact that they were driven, one after the other, by the man that test-drove them on that same track throughout their development. We're talking, of course, about the F40, the F50, the Enzo and LaFerrari, the milestone cars in Ferrari's technological evolution over the last three decades, and the great Dario Benuzzi, himself a fixture at Maranello since 1969. The legendary Ferrari test-driver drove each one of the cars in order, reliving the emotions of a lifetime career with the Prancing Horse in a kind of unique technological time-lapse sequence. In the end, it proved impossible to resist the temptation to have all four limited edition special series Ferraris out on the track at once. Their powerful lines and the roar of their 8- and 12-cylinder engines provided a memorable and spectacular sight and soundtrack indeed. The perfect celebration of Ferrari passion and excellence. ►IF YOU LOVE CARS, YOU SHOULD SUBSCRIBE NOW TO GOMMEBLOG'S CHANNEL ►►► http://bit.ly/12ULPud ►SE AMI LE AUTO .. NON PERDERTI TUTTI I NUOVI VIDEO. ISCRIVITI ADESSO ►►► http://bit.ly/12ULPud ►Google +: https://plus.google.com/101792401712738693835/ ►Facebook: http://facebook.com/gommeblog ►Twitter: https://twitter.com/gommeblog ►Website: http://www.gommeblog.it ►Gommeblog.it: CAR CHANNEL. Videos about Cars, Video Motorbikes, News, Test Auto & Motos, Test Drive, Video Reviews, Motorsport News and Track Lap. News About the Most important Cars and Motorbikes Bands like Ferrari, Lamborghini, Audi, BMW, Mercedes-Benz, Porsche, Koenigsegg, Bugatti, Ducati, Yamaha, Kawasaki .... ►THANKS for taking the time to visit, I hope you SUBSCRIBE and enjoy the upcoming videos!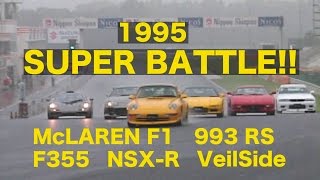 Best MOTORing official ベストモータリング公式チャンネル
2 г. назад
SUPER BATTLE!! Part 6 筑波サーキットバトル【Best MOTORing】1995 1995年、世界中のツーリングカーレースがGTカーへと移行。この年のスーパーバトルはそのベースマシンたちで行われた。ル・マン24時間を制したマクラーレーンF1がついにベストモータリングバトルに参戦。さらに、NSXの影響を受けたと言われるポルシェ、フェラーリの最新モデル、993型911とF355も初登場!! DRIVER   黒澤元治 / GANsan Kurosawa  土屋圭市 / DK Tsuchiya    中谷明彦 / Akihiko Nakaya  服部尚貴 / Naoki Hattori     黒澤琢弥 / Takuya Kurosawa  他 ENTRY CAR  McLAREN F1  Ferrari F355  PORSCHE 911RS   NSX TYPE R VeilSide SUPRA  ESPRIT R33 GT-R STAGE  筑波サーキット / TSUKUBA CIRCUIT  他 チャンネル登録はこちら https://www.youtube.com/channel/UCrms... Hot-Version 再生リスト https://www.youtube.com/playlist?list... Best MOTORing 再生リスト https://www.youtube.com/playlist?list... INITIAL D STYLE 再生リスト https://www.youtube.com/playlist?list... NEW Releases!! Hot-Version DVD digest https://www.youtube.com/playlist?list...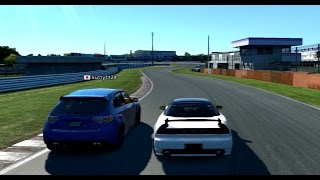 1 г. назад
This is a replay of a nice and fair fight I had in an online race in GT6. The guy in front of me on the starting grid jumped the start and stalled for a few seconds as penalty. This is a replay and not live gameplay. The "Exterior" camera is used in this replay to get the best overview of the race. When playing I use the camera that is located at the front bumper of the car. Played with Thrustmaster T500RS, "ABS: 1" as the only driving aid. Everything else is off or set to manual. Game: Gran Turismo 6 - http://www.gran-turismo.com/gb/products/gt6/ Track: Tsukuba Circuit - https://en.wikipedia.org/wiki/Tsukuba_Circuit White Car: Honda NSX Type R '02 - https://en.wikipedia.org/wiki/Honda_Type_R#NSX_Type_R Blue Car: Subaru IMPREZA WRX STI spec C '09 - https://en.wikipedia.org/wiki/Subaru_Impreza#WRX_STI This video is recorded on a PlayStation 3 with an Elgato Game Capture HD. - DarkLink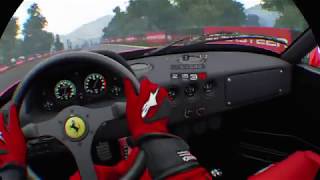 8 мес. назад
This was intimidating. The F40 has always been one of the most difficult to drive cars in all race sims. I'll do the Countach later, then upload 2 videos a day over the week.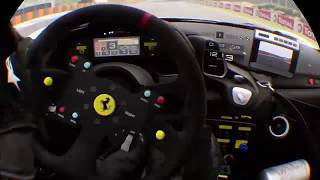 8 мес. назад
SHAREfactory™ https://store.playstation.com/#!/nl-be/tid=CUSA00572_00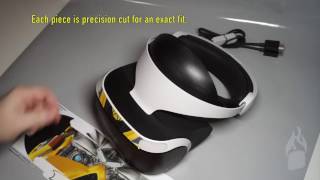 2 г. назад
PlayStation VR PSVR Custom Decal Skin Installation - www.flamingtoast.com